The Krav Maga Fight Program: Transform Your Mind and Body
Develop, test, and hone your Krav Maga fighting techniques through partner drills and sparring (for men and women). Improve your stand-up and ground fighting skills through our fight training program. With hand-to-hand combat taught by experienced professionals, your Krav Maga skills will strengthen like never before.
You'll participate in…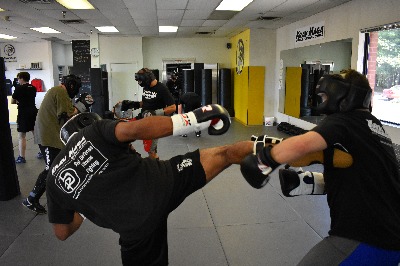 Intro fighting
Muay Thai
Boxing
Kickboxing
Ground fighting
MMA
The Krav Maga Fight Program offers a variety of fighting classes for men and women of all skill and experience levels. Our goal is to train fighters who are well rounded—both standing and on the ground—possessing a wide variety of skills for any potentially dangerous situation.
KMNOVA offers Krav Maga Fight program classes for all level of students. We work on all areas of Krav Maga fighting techniques: attacks, defenses, timing, feints, tactics, movements, and vision.
The Bad Guy Isn't Fighting For Points & Neither Should You!
We develop the right skills for sparring and ring fighting, but remember, the street is not the ring. We emphasize down and dirty techniques—what is effective to win on the streets. Our no rules system of fighting will keep you safe and help you survive a violent assault. You'll develop the hand-to-hand combat skills needed to survive a violent assault.
What do you do when a fight goes down to the ground? Based on Brazilian Jiu-Jitsu and Muay Thai, this part of the class teaches students effective techniques used by grapplers in ground fighting against opponents of all sizes. A must for women who want the strength and skill to ward off unexpected predators, these Krav Maga fighting techniques are for students of all levels.
Get Started Today!
Fill out the short form on the side of this page to get started learning the best and most effective fight techniques in the world at Krav Maga Norther Virginia.